eCommerce continues to evolve at a fast pace, and you need to keep up with the current eCommerce trends to continue to attract more e-shop visitors and convert them into buyers. 
The global eCommerce growth is stunning. In 2017, it was around $2.3 trillion and is expected to reach $4.5 trillion in 2021, according Statista. In the United States alone, eCommerce accounts for almost 10 percent of retail sales — a number that is increasing by nearly 15% each year.
Which eCommerce trends are set to dominate this year? In this article, we discuss the 6 most powerful eCommerce trends you need to know in order to keep growing and stay ahead of the competition.
1. Amazon Advertising
When you're selling on Amazon, Amazon Advertising is one of the best ways to get traffic to your product listings.  It's incredibly high converting traffic and you can narrow down on keywords and categories you want your ads seen in!
… And if you're not set up yet, we can build an Amazon Store for you!
Here are some ways to do it:
1. Sponsored Brands
Sponsored Brands appear above the Amazon search results and help advertisers build brand awareness.  You can also promote multiple products inside the listing and, since Amazon is filled with buyers, these Sponsored Brands listings convert very well.
2. Product-level profitability
With Amazon Advertising, you can dig into your product level profitability.  That means you can track profit magins, gross profits and overall ad spend on each of your products and campaigns.
3. Increased Page-Level Conversion
Traffic, sales, and reviews are conversion drivers in Amazon.  Traffic and a solid organic search position helps your products earn the Amazon's Choice designation, helping you stand out to buyers.  Then, the more sales, the more traffic…  It turns into a self-feeding frenzy.
4. Category-specific targeting
Sponsored Products are the most popular advertising option, and the one we use most often for your clients.
These ads appear above, below, and alongside the Amazon search results, as well as on product detail pages, and are similar to Google's product listing ads.
Sponsored Products allow you to use category-specific targeting, which shows your company's products alongside complementary products, increasing conversion from your competitor's listings.
Using this functionality allows you to showcase your products right along with established brands and competitors in the Amazon marketplace.
5. Negative keywords
Negative keywords let you exclude specific words or phrases from a larger keyword search, making sure you don't rank for the wrong search terms.  The quickest way to do this is to see which keywords are getting a lot of clicks but few conversions.  Is there a common word in the phrase that you can pull out?
6. Using Advertising Cost of Sale (ACoS)
ACoS is a ratio of your ad spend to revenue. For automatic campaigns, ACoS is at the group level, but for manual campaigns, you get your ACoS on a product level.
Of course, the lower your ACoS is, the better.  However, when you're liquidating a product, launching a new product, or trying to gain entry into a new market – you'll want to set your ACoS higher.
2. Influencer marketing
Micro-influencers marketing has been riding on the back of the social media explosion. The marketing channels for this event have been Facebook, Twitter, Instagram, and YouTube. But blogging and Pinterest are also very effective.
The top end of the influencer spectrum is taken by celebrities like Kim Kardashian. Kim has reportedly had companies paying her up to $500,000 to share their brands with her 95 million followers. But you don't need to be a celebrity to be an influencer.
At the other end of the spectrum, are micro-influencers who build a base of loyal and active followers through a niche interest or a particular passion. The niche could be any subject ranging from babies to business, cats to cars, or face cream to fashion, and anything else you can think of. These micro-influencers may have only 3000 followers or even 100,000 followers.
What is influencer marketing?
At a simple level, it is word-of-mouth marketing on a massive scale. The stay-at-home mom who runs a blog about parenting her pre-schoolers reviews a book about "How to End Temper Tantrums" and her 5000 devoted followers are straight onto Amazon to place an order.
Why is influencer marketing so effective?
Our stay-at-home mom, and the other micro-influencers, are changing how products and brands are perceived. Direct marketing is often impersonal and seen as having a vested interest. And consumers don't know the product nor do they know the salesperson. Direct marketing often needs a two-step approach to making a sale and then a raft of bonuses and money-back guarantees to win over the customer.
But if a member of your family or a friend recommends a product you are more likely to buy without hesitation. A micro-influencer is seen in the same light. You can relate to them, you feel you know them, and they are trustworthy.
How can you work with micro-influencers?
Micro-influencers are for you if you have a micro-budget! It is easier and cheaper than other traditional forms of online marketing (think Google AdWords!). Check out social media platforms for your niche, and team up with those micro-influencers. It is an effective way to promote your product or service.
3. Email marketing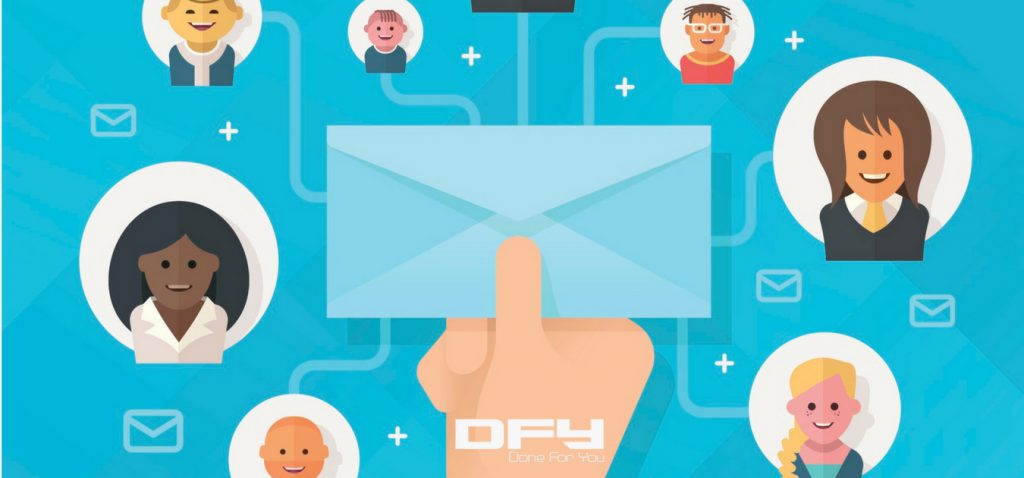 Email marketing and automation is a very effective way to connect with your customers, and others, who have subscribed to your mailing list.
So, why is email marketing included in current eCommerce trends? The modern consumer has evolved beyond the scope of this older marketing strategy. But when it comes to getting your product or service in front of your customers, email marketing leaves social media standing. Email converts readers to buyers at a higher rate than other marketing platforms.
Email is also evolving. You can target your customers with relevant special offers based on their buying habits. Emails are interactive. Now your customers can make secure purchases directly from within their email with just one click.
Email is an excellent method to establish long-term relationships with your customers. Email marketing allows you to educate your clients, and share tips and tricks related to your niche. In turn, you can receive great feedback from your customers and new product ideas by the creative use of competitions and surveys. Email is an efficient way to drive customers to your website.
4. Mobile marketing
Most of your customers use mobile devices. In 2018, more than 50% of internet traffic comes from smartphones and tablets (source: Statista). Therefore, a website that is responsive to mobiles is essential.
It is now more likely that eCommerce customers will reach your website from a smartphone or tablet.
Many people from across the age ranges are becoming more confident with buying products and services through their mobile devices.
Marketing Week reported that 33% of 18—24-year-olds preferred to buy products directly through Facebook. This statistic should encourage businesses to create a marketing budget for social media. Run a Facebook Ads mobile campaign directed at this age group.
Mobile marketing is changing the face of eCommerce, just look at the rise of Uber as an example. There are over a million apps available for smartphones and tablets. PayPal and Apple Pay working with banks and other institutions will affect the way we move our money. So now is the time to consider mobile-first, when creating your eCommerce marketing campaigns.
It's not too late to adopt a mobile mentality. Mobile traffic is the future!
5. Voice search
When voice search came out on Siri, few people had thought to buy products with their voice commands.
Apart from Apple's Siri, we now have Amazon's Alexa, Microsoft's Cortana and Google Assistant. They have different skill sets. For example, Alexa can tell you what the weather will be tomorrow. Google Assistant can book an appointment for you with your local hairdresser.
We can talk to our smartphone to make a Google Search or instruct our phone to call a friend. Many people who have used these voice search platforms wonder what life was like before they had them.
Why are people taking to voice search in such a big way? Here are the reasons according to one survey:
It's quicker than going to a website or using an app.
I can use it while I'm driving.
It's more fun!
And, it's easier than going on a website.
It's a more exact way of searching.
I don't like typing on my mobile phone.
We type at 40 words a minute and speak at 150 words per minute. So we can get our question answered faster with a voice search.
Computers now understand voice commands. Anyone who has used the "voice to text" feature in Google Docs will know how accurate voice recognition technology is.
So, what's the take on this for eCommerce? It is important to optimize your website and blogs for voice search. Then you can work on your product pages and descriptions for voice search. Start with using search phrases that people use and questions they ask, rather than keywords.
Voice search on your website makes it more accessible for those with physical disabilities. Offering clients an experience they are familiar with, you can expect to increase conversions in your eCommerce store.
6. Chatbots for a better user experience
Keeping your visitors engaged on your website is an essential part of digital marketing. This is often overlooked by eCommerce store operators. Lower your 'bounce' rate by letting Chatbots take the strain! If you don't get that qualified customer, then one of your competitors will!
What are Chatbots?
We mentioned examples of Chatbots (Bots) in an earlier section, Siri, Alexa, Cortana and Google Assistant. If you thought Bots are just for the big boys, you can think again! Bots as pieces of software are now within the scope of a small business's budget. So it is important to understand how they can help you succeed.
A Chatbot (a robot that chats!) is software that copies human phases. It works through voice commands, text chats, or both. Your customers can have a 'virtual' conversation by asking your Bot a question. And the Bot can give an automated response or carry out a task.
Bots work well with eCommerce. They can engage visitors. They can send newsletters, daily updates, and generate leads.
Using a Bot
A Bot is a virtual assistant that handles your repetitive tasks. This software is a great way to enhance customer relationships.
A customer can visit your website at any time of day or night and your friendly Bot pops up with a greeting. Your visitor asks "Do you sell widgets?" the Chatbot can recognize information and give a reply "We have the best stock of widgets in the county". The Chatbot can ask your visitor "Can I help you with your order? Your customer might reply "I want information". To which your Bot asks for name and email address to send information. The customer is added to your mailing list.
Advantages of using Chatbots for you and your customers are:
Your customers are familiar with this communication.
Bots offer a good user experience, can be programmed to answer FAQs.
Customers can find what they are looking for quicker.
A Bot helps create a personal customer experience.
A Bot will help to create a higher profile for your business.
Your customer service can run 24/7
Technology is improving by the day, and that makes personalization a must on customers' eCommerce journeys.
Moreover, there are some Chatbot services, like ManyChat, that allow you to create a Bot without code.
Powerful eCommerce trends
— What's more?
Now that you know about the things driving eCommerce companies forward in today's marketplace, it's time to put some of it into action!
We'd love to help you put together a Growth Strategy for building your eCom business online, whether that be in Amazon, Shopify or any of the other eCom platforms.
All you have to do is click the button below, fill out the Action Plan form, and schedule a call with us!