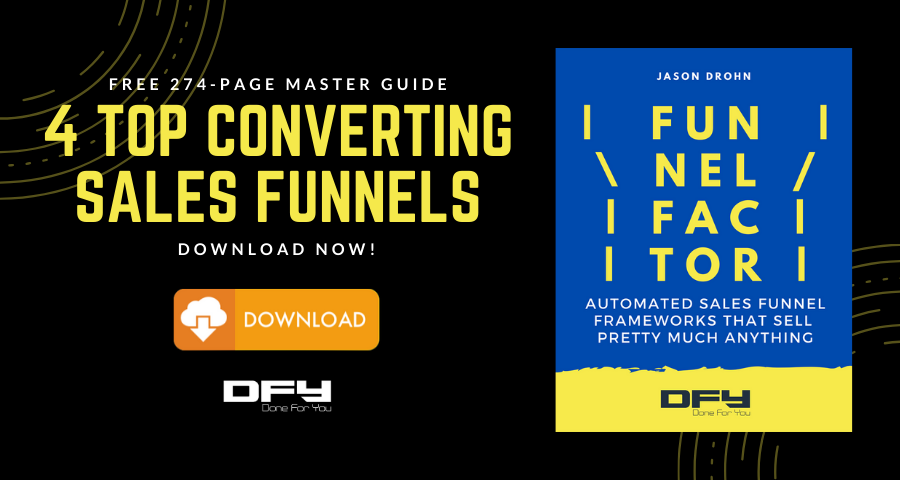 Did you know we are actively engaged in parts of a sales funnel every time we buy a product? Actually, even before we buy?
It doesn't matter whether we are in a brick-and-mortar business or browsing an online store, we as consumers have already entered their funnel.
These days every online marketer and business owner talks about online sales funnels. Search Google News or read any sales or marketing blog, and you'll see that sales funnels and sales psychology are making the news.
Why is that?
Because competition has grown to be so intense and digital business best practices are so commonplace, companies NEED to have an automated sales process to acquire new customers. The sheer fact that we're exposed to thousands of advertising messages every single day reinforces that.
So, from a business perspective, how do you stand out from the crowd?
The answer: Developing an effective, automated sales funnel.
Parts Of A Sales Funnel
In this post, we will explain parts of a sales funnel in plain English. Our goal is to help you not only understand their value -- you probably know already that your business can't survive without a funnel -- but the integral components of a sales funnel.
Let's say you were about to hire a Sales Funnel Expert to build your online sales process for you. (Notice, I didn't say designer!)
A designer or developer is going to start and stop at your website. The truth is, a website is required. It's mandatory. But it's the least important part of the entire sales funnel conversation.
The parts of a sales funnel, as you'll see, are a complete system that starts with web pages, includes email marketing, multi-media content, order forms, call scheduling, and more... All built custom for you and your business!
The parts of a sales funnel should automate your sales and reinforce your existing processes, not make you reinvent how you and your team work.
A Basic Funnel Breakdown
A basic funnel (and this is our approach to building successful sales funnel development) is comprised of three stages:
Your Offer – What you're selling.
Your Follow-up – Your communication with your lead once they're in your sales process.
Your Traffic – The people coming to your website or landing page.
When you combine all three – traffic, your offer, and a follow-up process – you get sales!
Now, these three parts of a sales funnel are the minimum you'd expect to see in an effective funnel. Let's break them down so you know exactly what comes with each one of these.
1. Your Offer
You cannot expect to have sales if you have nothing to sell. It should go without saying, but, in reality, some small business owners don't realize that they get no sales because they have no offers. In these cases, their bottom line won't reflect an increase in web visitors.
For your sales funnel to work, you need to have a clear, well-defined, branded product (or productized service) to sell.
Video Sales Page
At the very minimum, you need one of the most elementary parts of a sales funnel; a page where the potential customer can click the "Add To Cart" button. This would be your "sales page". Also, thanks to our short attention spans, this page should have at least one Sales Video on it. Many more, people would rather watch than read.
Typically, for offers under $100, a sales video is about all you need to sell.
Downsell / Upsell Pages
To maximize your average customer value, you'll also want to create Downsells and Upsells, which are another way to say complimentary products. These are products of a lower or higher price than the initial offer. They will be shown to customers of the initial offer accordingly.
So, if a sales page visitor doesn't buy, then they might be presented with the downsell through an exit-pop. On the other hand, if they buy, they will see an upsell on the next page, before they get access to the product.
Live or Automated Webinars
If your offer is higher than a few hundred bucks or is a complex offer, you'll want to sell it through a webinar. The webinar needs to be scripted, recorded, edited, and then set up to play so many times throughout the day.
We've had the best luck with starting webinars every 15 minutes in most markets. Sometimes, though, they test better when they're set to start every night at say 9:00 PM or deliver immediately after registration. Each niche is a little different.
Product
Now, what could your offer be? It could be anything from a physical product to a digital service. A pair of shoes, coaching, consulting, an eBook, a DVD, a downloadable training course, a monthly service, or yearly access to a cloud app.
If you create it and there are buyers for it - it's your offer!
Lead magnet
Before the offer, it's best practice to first show people a free offer (called a "lead magnet"). Most website visitors won't be familiar with your brand. This is why they won't buy right away. But still, you don't want them to leave empty-handed.
So, instead of driving traffic to a sales page, you'd want to have an opt-in page, where people give up their email to download a freebie. This way you add them to your mailing list and can contact them again.
(We always split test a few different things when we start running traffic for our funnel clients. Usually, we start out promoting a lead magnet and a webinar side-by-side to see where our leads are the cheapest!)
Offer checklist
When planning the parts of a sales funnel, this is a list of items or tools you would expect to have to be able to sell your offer:
Product or Service
Lead Magnet (recommended, but optional)
Opt-in Page
Email Marketing service
Thank you page for people who opt-in
Welcome Email
Download Page
Sales Page
Thank You Page (for buyers)
Upsell Page + Thank You Page (optional)
Downsell Page + Thank You Page (optional)
Now, the above list of elements are parts of a sales funnel and may vary depending on your offer.
For example, if your product is a webinar, then you'll need a Webinar Registration Page. If your product is a consulting session, then you'll need a Call Scheduling Form.
If you'd like to go over what your sales funnel would look like, watch this video to find out the next steps!
2. Follow-up
The reason why sales funnels have gained in popularity is that they can work for you on auto-pilot.
Parts of a sales funnel are the exact replacement for a sales process in a brick-and-mortar business, plus they can be fully or semi-automated. Funnels are a nearly set-and-forget solution to attract, nurture and convert customers.
Automated Email Sequences
Let's assume, someone enters your funnel by filling out a form. Right after that, you need to have an automated lead nurturing process in place.
So, when people subscribe to your email list, an automated email sequence is triggered. Whether it's Monday morning or Sunday at midnight, automated workflows will take over and do the heavy lifting for your marketing on auto-pilot.
Follow Up Checklist
To create Email Automation, you will need:
Email marketing service with automation (and optional website tracking features)
Emails (copy, images)
Automated email sequences set up to serve different goals or segments
In the sales funnels we deploy for clients, we usually write and schedule between 20 and 25 emails before we even go live!
This way, every marketing automation contingency is accounted for. If someone registers for the webinar OR doesn't register for the webinar OR buys OR doesn't buy... We have already automated a response specifically for any and all actions that could possibly be taken.
Endless Automation
You might be wondering, where does the follow-up stage end? Well, you can choose to stop following up when a prospect becomes a customer. But then why not have them become a repeat buyer? Email automation can be an infinite process that you can set up once and have it work for your business 24/7.
Most parts of a sales funnel have a pre-defined term of marketing that is already done... 30 or 45 days is pretty standard for our clients. So, when someone gets into their funnel, all of the marketing is handled for at least 30 days.
Then after the 30 days, they either get added to the next funnel (called: Funnel Stacking) or weekly broadcast emails and newsletters take over.
That way, there's always continuity in your marketing messages. And if your prospects and customers jump down another rabbit hole for your next offer - that's awesome!
Setting up the CRM and marketing automation can be a little bit tricky, but is totally doable and 100% worth the effort as it will put you in a position closer to or finally achieving your goals of generating a monthly passive income.
3. Traffic
Sometimes when you approach a web developer or choose to work with a "Funnel Page Building Software," you won't have a plan for getting traffic. Sometimes this is on purpose. Web developers are paid media experts. And 'funnel software' does integrate with Facebook or Google Ads.
As far as we're concerned - this is a little bit like selling someone an electric car, but not including an extension cord to plug it into the outlet in your garage. You can't hope to have an automated sales process without people there to buy your stuff.
In reality, you wouldn't expect to sell without having a way of getting the right people to see your offer.
Organic vs. Paid Media/Ads
Unless your website has enough organic traffic already (coming from Google search results), you need a traffic method to attract people that are interested in what you have to offer.
That is why we are advocates of traffic as a major part of a sales funnel AND it's also why we start every sales funnel conversation with traffic! Then, once the funnel is built, you've already got ads ready to go live to promote your landing pages. And, if you have assets like an email list or a social media following, we account for those in the rollout phase!
Traffic  Checklist
As explained above, this is what you need at this stage, the Traffic Stage:
Customer Avatar
Traffic Source
Traffic Budget
Advertising Copy and Creative
Other Promo Copy and Images
Some examples of the most popular traffic sources are Facebook Ads, Google AdWords, LinkedIn posts, Quora, guest posts, podcasts, YouTube videos, etc... All of these traffic sources we can run and manage for you too!
Parts of a Sales Funnel: Putting It All Together
In short, all of the above elements are the basic parts of a sales funnel. They won't all be needed for every funnel, but they should get you a good overview of the things you'll need to have in place before launching.
In the past 5 years, we've built and launched over 400 sales funnels in pretty much every niche you can think of. The absolute most popular types of sales funnels we've deployed are:
Automated Webinar Sales Funnels: For higher ticket offers where the Call To Action is either a sales call or a purchase through an order form.
Video Sales Funnels: Featuring one-click upsell and downsell sales process to maximize customer value.
eCommerce Sales Funnels: Also with upsell and downsell functionality, but for physical products :0)
Survey Sales Funnels: These work really well in highly volatile advertising markets and where you need to segment buyers into buckets before marketing automation.
We'd love the opportunity to learn more about your business and figure out which sales funnel will work best for you!
Plus, our team will manage the whole process (even the product or lead magnet creation) and deliver a complete done-for-you sales funnel that is customized to your needs -- but still proven to convert, because of the tested funnel parts (e.g. opt-in page) that we plugin and optimize.
Our experts can work from square one to create an offer, design and build all of the pages, write high-converting copy, and set up automated email sequences. We create, test, and deliver sales funnels that operate like clockwork 24/7 without you having to do the work.
If you'd like to learn how to build a sales funnel for your business, click here!
Video Transcript:
Hey, what's up? This is Jason Drohn. Welcome to today's presentation. We're going to talk about how to maximize conversion through a sales funnel. Yesterday I had a little bit of an audio issue, it was four or five minutes into the presentation. I discovered that there was no audio, but I didn't have any reverb. There was no way for me to tell so I just kept talking. So I'm going to have to rerecord yesterday's episode, throw it up on YouTube, and all of that other fun stuff. It looks like my audio is okay now, so if in the category box, or if in the comment box, you can just let me know that would be fantastic. Today we're going to talk about how to maximize conversion through a sales funnel. By and large, this is what I spend so much of my day doing, because whether from a client standpoint and split testing things, it's doing A/B tests, it's split testing ads and trying to find out different ways or better ways to run traffic to ultimately get better sales out of a platform.
That is where most of my day is spent. For those of you who don't know who I am, my name is Jason Drohn. I'm the creator of doneforyou.com and we specialize in three things. Creating offers, building sales funnels and sales systems, and then also the marketing automation and traffic side of it, so basically it's our specialty. If it lives online, it's what we do. Today we're going to walk through a blog post about how to maximize conversion, and then I'm going to finish it all up with some software and some different ways to split test the software. So we're going to start by going here. This is basically how funnels are broken down, it's the key component of a sales funnel. I just dropped that in the comments box so you can go and click that link.
That link is going to take you to a blog post that looks like this. All right, now in maximizing conversions through a sales funnel, one of the most pivotal things you need to understand is that [inaudible 00:02:33] conversions, it isn't you turn on the traffic and then you start getting sales. It isn't a one-to-one thing. There are so many bottlenecks between where your traffic comes in and then ultimately what happens for them to get the sale. In building sales funnels, you do your best to plot the journey as much as possible, but oftentimes there's a bottleneck that's halfway through. So they might click an ad here, and then they go to a landing page, and then they opt-in and the opt-in might be great, but then they hit a sales message or sales video, and something about the sales video doesn't necessarily work, doesn't resonate with them very well.
So what happens is, from an analytics standpoint, if you're watching the stats of that sales video, then you can see a drop-off. You can see that there's a mass drop off three minutes into the sales video, or they hit the page, they don't agree with something in that sales page, and then for whatever reason, they leave. That's a bottleneck. Right there, if you go and don't address that particular thing, then it's going to have a devastating effect on your sales funnel. So for as many things as aren't working in a sales funnel, there are a lot of things that are working in a sales funnel. The optimum might be great, people might be reading down a page, people might like the headlines, people might be stopping and pausing on it on a particular graphic. There are lots of ways to pinpoint the things that are working and pinpoint the things that aren't.
So in dealing with sales funnels and dealing with maximizing conversions through the sales funnels, then some things are important to look at. The first is that every sales funnel has a top, it has up at the top, then we have our main entrance. This is going to be Facebook traffic, this is going to be Google traffic or YouTube traffic, or SEO traffic, or whatever kind of traffic that you are using in your sales funnel. Then we have the different parts of a sales funnel. The basic funnel breakdown is you have your offer and your offer is the thing you are selling. It might be a mastermind, it might be a digital product, it might be consulting, it might be just very simply lead gen, or affiliate stuff.
Then your offer, you have certain components to making that offer. That is going to be your sales page. It's going to be your upsell and downsell pages. It's going to be your automated webinars, and the product, and the lead magnet, and all the things, all the components, all the deliverables that make up the sales funnel, that's all part of your offer. Here's the little checklist that you can run if you want. Then you have your follow-up. I always depict the follow-up process for all of our sales funnels to be something like this. So we have our traffic coming on the front side and then we have our free report or lead magnet.
Then from there, we go down... They go to webinar registration. They go to some sort of an offer, or an event, or a seminar, or a teleseminar, whatever. They hit the thing that makes that offer. From there, if they don't buy, then we send them in through an email sequence. The email sequence brings them back to the offer and then it moves them along their journey. So the emails go to webinar registration, and then we'll pull back. If they register but don't buy, we send them emails to ultimately buy, and then we move them into fulfillment. If they don't purchase from there then we move them to the next offer. There's always the dynamic of how it works out.
Now we automate all this stuff. So all of it is automated inside of email sequences. And we have... There's a follow-up checklist here too, also at the same link. The goal is to have this endless automation, this endless trail of things that happen based on what they do, what pages they visit, what emails they open, what surveys they answer. That's the goal of marketing automation, and you have to have all of it set up before you can start running traffic. I get calls all the time. They're like, "Well, I need traffic." I'm like, "Well, yes, you need traffic. But what you need first is you need a way to pay for the traffic. You need a way to turn that traffic, those clicks into revenue so you can keep generating traffic." That is a sales funnel. And it might be a simple sales funnel, it might just be an offer, like a sales page, or a sales video, or whatever, some way that you're generating money.
But at the end of the day, you can't continue paying for traffic if you're not generating revenue. And to generate revenue, you need the sales to funnel for it. Now there are lots of different kinds of traffic that you can do. You can do organic traffic, you can do paid ads. Here's a little checklist on that, but all the parts of the sales funnel, putting it all together, you have your offer and there are video sales letter funnels, there are automated webinar funnels, and surveys, sales funnels. There are lots of different kinds of funnels, but moving somebody from learning about you to ultimately engaging with you, to then buying is the entire journey. Now, one of the tools that we use to help with that, to aid in that, is split testing software.
So let me kick over into a tool that I love called Visual Website Optimizer, or VWO for short. And I'm going to show you a crazy test that I just did yesterday. Well, two tests. So one I did yesterday, or later in the week last week, and then one that I just looked at today and it's still a little bit mind-boggling. I'm just going to show this to you real quick. Now let me log in here. So we're going to log in to Visual Website Optimizer and all right. This is an account, so I used to use Visual Website Optimizer all the time, and then I started using some different tools. The one I was using, I still have up and running, is Inspectlet. So inspectlet.com is a great piece of software, it's free, you can sign up for free. And basically what you can do with it is it will track the screen recordings of everybody who comes to your website.
With those screen recordings, you can see where a bottleneck is, what they paused on, what they liked, what they didn't like. Cool stuff. It also has an A/B testing tool, it's a very simple A/B testing tool. It does some multivariate testing, you can test headlines, you can test some different things, but at the end of the day, from a functionality standpoint, I was looking for something with some more meat to it. It's great for being free, though. The other one that we use a lot is Hotjar. Hotjar does screen recordings, it does heatmaps, it does some funnel tracking through the funnel, but it does not do A/B testing. And robust A/B testing is really what I was looking for.
So I went back to my previous favorite, which was VWO. Now in VWO, there are lots of tools, there are lots of things that you can do. So basically here's the test that I ran. We're going to go to testing, and then A/B testing, and then I am going to filter all, and I'm going to show you the test that I ran in disabled. This was test one, it was a headline change of a landing page that you've talked about before. You've probably all seen it, the funnel factor report. A lot of you probably opted in for it. Here was the test though. This is test one, it was a simple headline test. So all I changed was the headline.
If we look at this guy, we're just going to pull up... You'll see that the only thing that changed was the headline. We're going to look at the screenshot. The first one was Swipe These Sales Systems, this headline right here. Then the next one, so let me hit this little arrow, is More Revenue, Faster. The next one was Sell More. On Autopilot! And the next one was Convert More Clicks To Customers. So real quick, just if you guess as to which one won, then just drop it in the chatbox.
All right. So now this test, this was the report. This one already, we won, so there was a winner and I already locked in the winner. The winner was not the control, even though the control was getting 46% conversion, which surprised me. In this test version, three was the winner by a long shot, the probability to be best was 99%. It got 32 visitors and 22 of those 32 converted. So this is the winner, Convert More Clicks To Customers. That is the winning version, and this is the version that I then locked in. This version is the version that is now live. Now let's check out this though. We're going to go back to the A/B testing, and then we're going to look at the second test, the live test right now, the one that is in the iteration.
I called this a subheadline test. Whenever I'm testing and optimizing sales funnels, I always test the headline, and then the subheadline, and then I go in and test the button colors or images, but it's always headline, subheadline, then the images, and button colors. Now, this particular test... So our baseline is getting a 46% conversion on traffic. If you look... We're going to go into the report here. We have a couple of goals set up. Now these goals, we have our lead, which is our primary goal. This is who visits the page and then opts-in. Then we have added to cart, we have course purchase, and then we have engagement. So the engagement is a goal that I just like to throw in there to see how people are interacting with the page.
It ends up being nice to track engagement because at the end of the day, knowing what somebody is doing on the page sometimes gives you a little bit more insight into what you can do to drive more engagement. There are pages that just don't convert at first, they're not opting in at a level that we want, so oftentimes rather than track conversions early on we'll track engagement and see what elements are giving us more engagement. Then from there, we can track what elements are giving us more conversion. So I always throw in the engagement metric, so much of this stuff, we couldn't do in Inspectlet, that's why Visual Website Optimizer is a nice tool.
Here our control is... So let me just look at the previews. Now the previews on this one, well you'll notice that we locked in our headline, so Convert More Clicks To Customers. We're just going to look at this. Every one of these has this same headline, Convert More Clicks To Customers, and the thing that we're testing is this graph, this headline or subheadline right here, it's the black box above the headline. So version two is a newly updated guide, blah, blah, blah. Version three is a master guide that reveals top converting sales funnels that are working right now. Nice short. And then the next one is a newly updated master guide that reveals the top converting sales funnels that are working right now. It was just semantics, just little language changes, which is all split testing is, little language changes. The control is converting [inaudible 00:15:18] 46.05%, which probability to be best [inaudible 00:15:23] 54%.
The next variation is 44% conversion. So right now we're kind of neck and neck with the control, but check this out. If we add a filter... So by leads. If we're looking at purely lead conversion, then what ends up happening is we're like, "Okay, this variation two is a clear loser." So this guy right here, this variation two, 31%, I should just deactivate him, right? Because he's a clear loser in the lead category. But here's the funny thing. Now I switch to the conversion cue being add to cart, so if I'm looking at add to cart, look at this. The control zero out of 24 people added the course on the confirmation page to the cart, zero out of 18 added the course to the cart.
I'm like, "Okay, well, so is it possible that we are sacrificing front-end conversions by a little bit to then maximize product purchases?" And if that's the case, then it throws this entire fucking thing out of whack. Do you know what I mean? It doesn't make sense. More people opt-in means more sales, right? But what if that little tiny subheadline change is doing something different to pre-frame the offer that is then on the confirmation page and then people are... So, check this out. We go to course purchase and we're like, "Okay, so... And Holy shit." Right? Here we have a course purchase, we're tracking for course purchases nobody from the control or the variation three went in and added that to the cart because nobody added to the cart so nobody could have purchased.
However, five of the people who went through the second variation or added it to the cart, and two of them bought, two sales on the lesser performing test. Isn't that crazy mind-blowing? So here, watch this. We have an 8% conversion when that is the homepage, or if we go to the lead, we have a 31% conversion if that first page is... If we're just tracking for leads. So here's my point. When you're split testing, and when you're optimizing your sales funnel, you need to consider the whole thing. Now, I'm going to continue tracking this. If these numbers hold, I'm going to be sacrificing front-end conversions to get buying customers. Because that's the point of throwing something on a confirmation page is to get buyers. So of course I am going to be sacrificing front-end conversions for back-end conversions because it does something different from a pre-frame standpoint.
You want to track every piece through this process. Does that make sense? I know it gets pretty wicked and it's probably dry as shit, but this stuff is the difference between making a bunch of money through your courses and your offers online, and not. It's really... At the end of the day, it's one of the biggest things that you can do is work on this site, is work on this stuff when you have your traffic dialed in. All right, now let's look at a different one. We have a different A/B test set up. This is just a simple one. Let's see, this one is a split URL test. Two different URLs, they're both going to one of our sales pages, and the sales page is for a sales funnel. It's the same page, two different videos.
I'm tracking two things, I'm tracking engagement and application submits. The primary goal is application submits. You can see that this variation, which is the control, is the one that has been up for a year, maybe. So the expected conversion rate 2%. Then I added a new video and the same page, a different video. It's an updated video now with me being comfortable in front of the camera and also has lost 50 pounds. I look at the old one and I cringe. So this new updated variation got one submitted application out of 22 visitors. Again, early days, but this is probably going to be the one that's going to end up winning, which means we lock it in and then we start testing something different.
So that is how you optimize conversions through a sales funnel. By and large, nice and easy, it's step by step. Every time you do something, you test it. Then from that test, you find a better way of doing it again and again. That's how you maximize conversions through all parts of the sales funnel, starting from the traffic to the end when they pull out their credit card. If you have any questions, or you just want to set up a call with me where we go through... Talk through your sales funnel, talk through your traffic and put together a plan to optimize your sales form, or build your sales form, or whatever, then go to doneforyou.com/start, and let me throw that up on the screen, fill out the little application, and then book a call.
Once you fill out the little application, then you can book a call on the next page on my calendar, then we'll jump on the phone. We'll run through, talk about your offer, your program, your business, whatever. And then we'll put together an action plan for you, and then go from there. So if you need anything, let me know.
Just go to doneforyou.com, there's a little chatbot in the lower right hand that'll connect you with somebody on my team and I will talk to you soon, all right? Thanks. Bye.