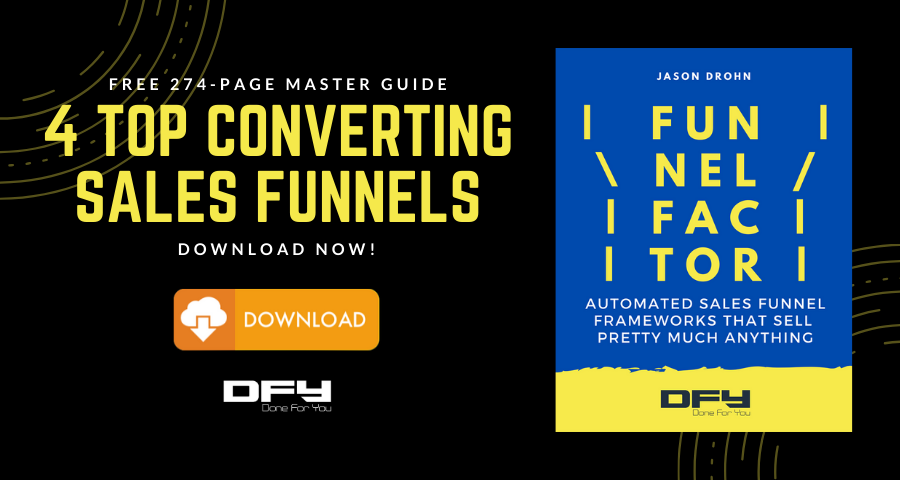 When you're online, using a WordPress lead magnet plugin is usually the easiest to use to get more leads...  If you're running a WordPress website of course!
And WordPress is by far your best option when it comes to transforming your idea into a fully-functional online business, largely because of the availability of the right WordPress lead magnet plugin. Using this CMS (content management system) you can easily start your blog, portfolio website, business site or online store with ease.
Here's a live stream we did on Lead Generation that you'll like:
Since WordPress is a free resource, it's used by so many entrepreneurs to give life to their projects. WordPress is used on 25% of the websites on the internet. This 2015 study published on MarketingLand points out that WordPress' competitor - Joomla is only used on 3% of websites. Since 2011 WordPress usage has grown from 11% to 25% and besides the hard-working individuals who maintain this CMS, a lot of credit should be given to those who create plugins and themes for WordPress, allowing users to add features and customize their website.
If you're starting a new website it would be a smart move to choose WordPress. It gives you a lot of options to deliver your content to the world and allow your visitors to subscribe to it.
You provide your audience quality content and they reward you by subscribing to your email list, clicking affiliate links or buying your products. With the help of the right WordPress lead magnet plugin, you can grow your email list and transform your blog into a cash flow machine.
Which WordPress Lead Magnet Plugin To Use To Stand Out?
Many WordPress list building plugins help you with lead generation and lead generation templates, but that doesn't mean you need to use all of them. Some are slowly dying since they don't bring anything new to generate leads but others are seeing a steady growth in users thanks to discovering new ways to transform visitors into subscribers, buyers or clients.
Just because a WordPress plugin has a lot of downloads, that doesn't mean it's the best option for you. Be sure to check out the recent activity and the support section on the WordPress plugin repository.
2016 is the year when you can't just install a plugin and let it do the work for you. You need to find the right solution for your business so you can stand out from the crowd. Here are several WordPress lead magnet plugins that allow you to do just that.
(NOTE: If you're wanting to learn how to create a done for you lead magnet, make sure to click here)
Icegram - All-in-one solution for lead generation.
Even if WordPress is a lovely piece of software, that doesn't mean you can install all the plugins you find online. Some of them don't behave nicely when installed next to others so it's better to look for all-in-one plugins. Icegram is a WordPress lead magnet plugin that provides you with a suite of features.
This FREE plugin allows you to add so many lead magnets to your WordPress site that it makes it a real solution for 2016. Icegram provides you with action bars, popups, overlays, toast notifications, sidebars, interstitials and more. You can search their add-ons page to buy custom solutions or download the free ones.
LeadBoxer - Advanced statistics and updates
This lead magnet plugin allows you to see advanced statistics and gives you weekly updates about who visits your website and who subscribes using the lead magnet plugin. Knowing not only who subscribes to your email list but also who is visiting your site can give you valuable insight. You can find out what goes wrong or what's that extra step you need to take to convince your visitors to subscribe.
Even if it's not a free plugin, LeadBoxer has a small monthly fee if you want to buy this plugin. It only costs you $9 per month for every user you want to add. If you're a small business or freelancer, LeadBoxer can be the right choice for you.
SumoMe - Lead generation and website growth tools.
Just like Icegram, SumoMe provides you with a suite of free tools that can help you grow your email list on their own such as a welcome mat, smart bar, scroll box, and some sharing tools. If you want to get 100% of this plugin, buying the premium version is the way to go.
SumoMe lead generation tools are something I've been using personally and recommend it for a small business website or a trending blog. You can integrate their lead magnets tools with most email marketing services so that's a big plus.
If you're a growing company or a freelancer with a good income, you should try LeadPages. It's not cheap but it provides you with a complete marketing automation system. You can easily create (with little to none HTML or CSS knowledge) custom lead pages and integrate them with almost all email marketing services and content management systems such as WordPress or Drupal.
Starting at $25 per month and going up to $199 per month (paid annually) it's not the cheapest solution out there but it's surely the complete one. LeadPages integrates with Analytics and other statistic systems so you can split test, apply the best lead generation tactics and see the results.
These are just a few WordPress lead magnet plugins you can use to stand out of the crowd...  And build awesome lead magnet funnels. We will not stop here and we'll research and test more similar plugins to give you the best recommendations.
If you'd rather have a team dedicated to conversion and pre-qualifying buyers build your lead generation campaigns, make sure to fill out this short form telling us about your business!  We'd be happy to hop on a phone call with you.
Video Transcript:
Hey, what's up, this is Jason Drohn. Welcome to today's presentation. Today we're going to talk about, well, we're going to talk about lead generation, because that's what this entire week has been about, generating leads. We've talked about some paid traffic. We've talked about lead magnets. We've talked about generating leads on a budget yesterday. And today, we are going to talk about using WordPress to generate leads. Now there are a lot of different ways that you can set up your website that you can generate leads. So on Tuesday, we talked about lead magnets, and the lead magnet is the most important part because when somebody gives you their email address, they expect something in return. So they expect to be given something. So that's usually a PDF, or it's a download, or a piece of software, or something that they can use into the future. And it's going to add value and give them some sort of benefit.
And now that lead magnet is hosted somewhere, and your lead generation, your page, your lead magnet page, this is the place that starts off your funnel in most cases. So we have talked so much about sales funnels in these GST daily episodes. We've dedicated entire weeks to sales funnels. Your lead magnet is really the place that it starts. And your lead magnet landing page specifically, is that thing that kicks off the lead generation process and kicks off the sales funnel. So I am going to show you some of the landing pages that have worked really well for us, show you how we created them. And then we're going to talk about some WordPress lead magnet plugins and some things that you can use to automate your lead generation.
Now, for those of you who don't know who I am because you're new to this channel or this podcast, my name is Jason Drohn. I'm the creator of doneforyou.com, and we specialize in creating offers, building sales funnels, and marketing automation, which includes all the traffic verticals and the sales channels and all that other stuff. So it is what we do, is making it easy for our clients to grow and scale. And a lot of that scale happens by generating an email list first. So over on the right-hand side here, you see a blog post. So which WordPress lead magnet plugins gets the most leads? Now, this blog post has quite a few different WordPress lead magnet plugins that you can use from a lead generation standpoint. We are going to talk about a couple of them, and I'm going to show you some of the stuff that we have, and that we've used to great success for our own business.
So as you can see here, we have this toolkit. So this toolkit, whether you opt in to this or not it doesn't matter, but so basically this page is a very, very, very, very simple page. It is a lead magnet landing page. So when you hit the download now button, this is called a two-step opt-in form. The second stage pops up. The first stage is the button. The second stage is this box. Please enter your email address below to receive all the downloads. So when you enter your email address here, then we are opting in for our lead magnet. This particular one, we go to [inaudible 00:03:37] on most things, so this is actually 22 different lead magnets. It's basically just all the stuff that we've created over time. So when you opt-in, you go to the GSD library, and the GSD library has three mini-courses. It has some build maps, it has GSD weekly checklist, it has some master guides, which funnel factor is one of them. So there is a lot of stuff in here that you can use to grow your business online.
So when you get here, then you're able to download any of this stuff. Here's the thing, though. So your lead magnet page there, we're going to go back one step. So here's your landing page. This is done by a WordPress lead magnet plugins called Optimized Press. Optimized Press started as a theme, and then from there, it moved to ... So it started as a theme, and then it became a plugin, and now it has its own version of themes. It's called the smart theme. So basically, you install this WordPress lead magnet plugins and then you can build all your landing pages. You can build your landing pages, your sales pages, your webinar, registration pages, the whole deal.
So if there was one WordPress lead magnet plugins that I recommend above all others in terms of building your WordPress landing pages, it is Optimized Press. It's what we do for all our clients. All of our clients, basically WordPress website, Optimized Press three, that way you don't have any weird monthly ClickFunnels or lead pages or any of the other ones. And it gives you some exit pop stuff. It gives you the page builder, everything you see that we build is in Optimized Press unless it's ClickFunnels because that's where our clients like to be, or [Real Funnels 00:00:05:30] or any of the other ones, but Optimized Press is where we stay.
Now, the other one that we like to use quite a bit, and it's a WordPress lead magnet plugins, is Thrive Leads. So Thrive Leads is a plugin that does all the other weird stuff. Not weird stuff, but Thrive Leads is, so this is all your opt-in pages that are underneath blog posts, your exit pops, your rollovers. Basically your Thrive Leads WordPress lead magnet plugins is what is going to do everything that isn't a landing page.
So here down below, we have a Thrive box, which is just a lightbox, a popup. There's a ribbon, a sticky ribbon. There are inline forms, which you can drop in the middle of a blog post. There is a two-step opt-in form that you can drop in a blog post. There's a slide in, in the lower right. There's an opt-in widget over on the right-hand side. There is a screen fill overlay, which is pretty damn cool. A content lock, scroll mat, yes, no, and multiple-choice forms. So there is so many different things here that you can do to generate the opt-in lead. Again, all you need is, you need a CRM, you basically create the form in your CRM, you drop it into this plugin, and then it starts actively generating leads for you, and this is a great example of one of those things. So how to build landing pages in record time, bam. So they have a Thrive theme builder, too. I haven't played with it much. We just love Optimized Press three, so we don't do anything besides them for themes. But this Thrive Leads plugin, the really, really good stuff that you should use.
So now, why WordPress? Now WordPress, about 25% of all websites online actually use WordPress. It is one of the reasons why we use WordPress because finding talent is cheap. So let's say we build a website in WordPress, and then we hand it over to a client. Because 25% of all the websites online use WordPress, WordPress is a very standard language when it comes to hiring other web admin. So somebody can go and hire somebody else who understands WordPress, or can at least get around WordPress relatively easily. So that's one of the reasons we build on WordPress.
The second is, it's so well supported and it's infinitely customizable through plugins. So I think I started using WordPress in version 1.2 or something, way, way, way a long time ago, 12, 13 years ago when it was in its infancy as a blogging platform. And it was awesome back then. I tried Joomla and some of the other ones, and WordPress was just the one that worked better than all the rest. So it's just the one we built-in. So a lot of websites use WordPress. WordPress has lots of development and lots of support, so you can do lots and lots of things in it.
Now from a WordPress lead magnet plugin standpoint, there's a couple of them. There's Icegram, which is okay. There's LeadBoxer. SumoMe is another one that we've played around with a little bit, and there are lots of different options and customizable things you can do with SumoMe. So you can definitely try it out. They have exit pops and they have lots of different lead generation functionality that you can play with. It's very similar to Thrive Leads. We use Thrive Leads over SumoMe, but it works pretty well. And then Leadpages was the darling when it came to a landing page builder way back in the day, and then ClickFunnels came around, and Leadpages lost some of its lusters just because ClickFunnels was nowhere. And then people started building really, really great WordPress plugins, stuff that just sat over top of them.
Let's see. Now another one that we use quite a bit, and you'll see this on our website on Done for You, is Picreel. So there are so many different exit pop plugins. We like using a piece of software for our exit pop because the software gives you a couple of different ways to set it up. So let me just log in here. I think this is my password. So here's an example. So this campaign that I'm running right now, we have gotten 4,395 visitors. So 19,000 impressions, the conversion rate is 5%, and there have been 97 conversions on this thing.
Now, if we go into the campaigns themselves, you're going to see that there are basically three campaigns here. And this one is funnel factor VSL full overlay. So one of the things that I do that is a little bit different is when you're getting into the exit pop plugins, you have to realize that devices matter. So you have your mobile device, which is going to be an exit pop that's that wide, then you have a tablet which is going to be that wide, and then you have your desktop is going to be that wide. So you'll notice here I have a distinction, M for mobile, T for tablet, D for desktop. And the configuration is different too.
So if we go into the configuration of this first exit pop, this is the exit pop that you see whenever you leave Done for You, how to convert clicks to clients. Now, if we go into the actual targeting of that, it applies website wide, anywhere on Done for You, that does not contain activation or products. So those are our two subdirectories. The trigger options are this. This is the desktop campaign. So the trigger options are, if you're on the site for less than five seconds, it won't show. You have to be on the site for more than 45 seconds, and you'll also have to scroll down at least 50% of the page. So this isn't one of those popups that just show up as soon as you hit a website, you actually have to be digging into the page a little bit in order for it to actually show up.
Now in the impression frequency is every day for the same visitor, and then our device type is mobile. So this only shows up on mobile campaigns, and it only shows up after 45 seconds. So whereas if we were to go into a campaign ... Blah, blah, blah. If we're going to desktop campaign, right here, so this one shows up on the exit pop. So the trigger option, it's not time-based, but it's on exit. So it's active, and the exit offer sensitivity is low. So when somebody shows up on a website and then goes to leave, then the popup shows up. The exit pop is triggered, and they get sent where we want them to go.
So by and large, that ends up being how those are set up. And if we go into ... Let's see. So we talked about landing pages. We talked about SumoMe, Thrive Leads, Picreel. Those are really the big lead magnet plugins that we use on a day to day basis. Now to use those plugins, any CRM will do because every CRM has an HTML form builder utility. So you create your form, you hook your form up to your campaign, and then you just copy your code into the WordPress plugin, or you integrate it through an API. And then what happens is, is every time your website generates lead it's going to shoot that email address and that name over to the CRM, it's stored in the CRM, and then trigger off some sort of an email marketing campaign or something. So that's how they work.
I think we talked about plugins. We talked about leads. We talked about lead magnets. We covered everything that was on the website. So I think, for the most part, we're pretty well done for today. So if you have any questions at all, go to doneforyou.com/start, fill out the little form, and we will be happy to get on an action plan call with you, work through traffic, work through your lead generation strategies and your sales funnels and your sales campaigns and all that other stuff. Just go to doneforyou.com/start. And if you have any other questions, on the website here, just hit this little chatbot, this little Done for You work bot on the lower right-hand corner. It's going to pop up, and then just ask a question and we will get right back to you.
So I will talk to you soon. All right? Thanks. Bye.